On 20 April, the European Climate, Infrastructure and Environment Executive Agency (CINEA) and the European Commission's DG Climate Action organised an info day to present the third Innovation Fund small-scale call for projects. This new call was launched on 30 March 2023 with a budget of EUR 100 million for projects with a total capital costs between EUR 2.5 million and below EUR 7.5 million, it will be open for projects submissions until 19 September 2023, 17:00 Brussels time.
During the event, participants had the opportunity to get an overview of the new call and practical tips to succeed in their application.
The Info Day was recorded and the video recording link is already available:
EU financing
Online only
Live streaming available
Programme
20 Apr 2023,
10:00 AM - 10:30 AM CEST

Welcome and Introduction

10:30 AM - 10:40 AM CEST

Project Development Assistance (PDA)

EIB presentation
Dr Zoran STANIC - Head of the Innovation Fund Unit
European Investment Bank

10:40 AM - 10:55 AM CEST

The new small-scale call

10:55 AM - 11:25 AM CEST

Overview of the award criteria (part I)

11:35 AM - 11:45 AM CEST

Short break

11:45 AM - 12:40 PM CEST

Overview of the award criteria (Part II)

12:55 PM - 01:00 PM CEST

Closing of the session
Practical information
When

Where

Languages

English
Description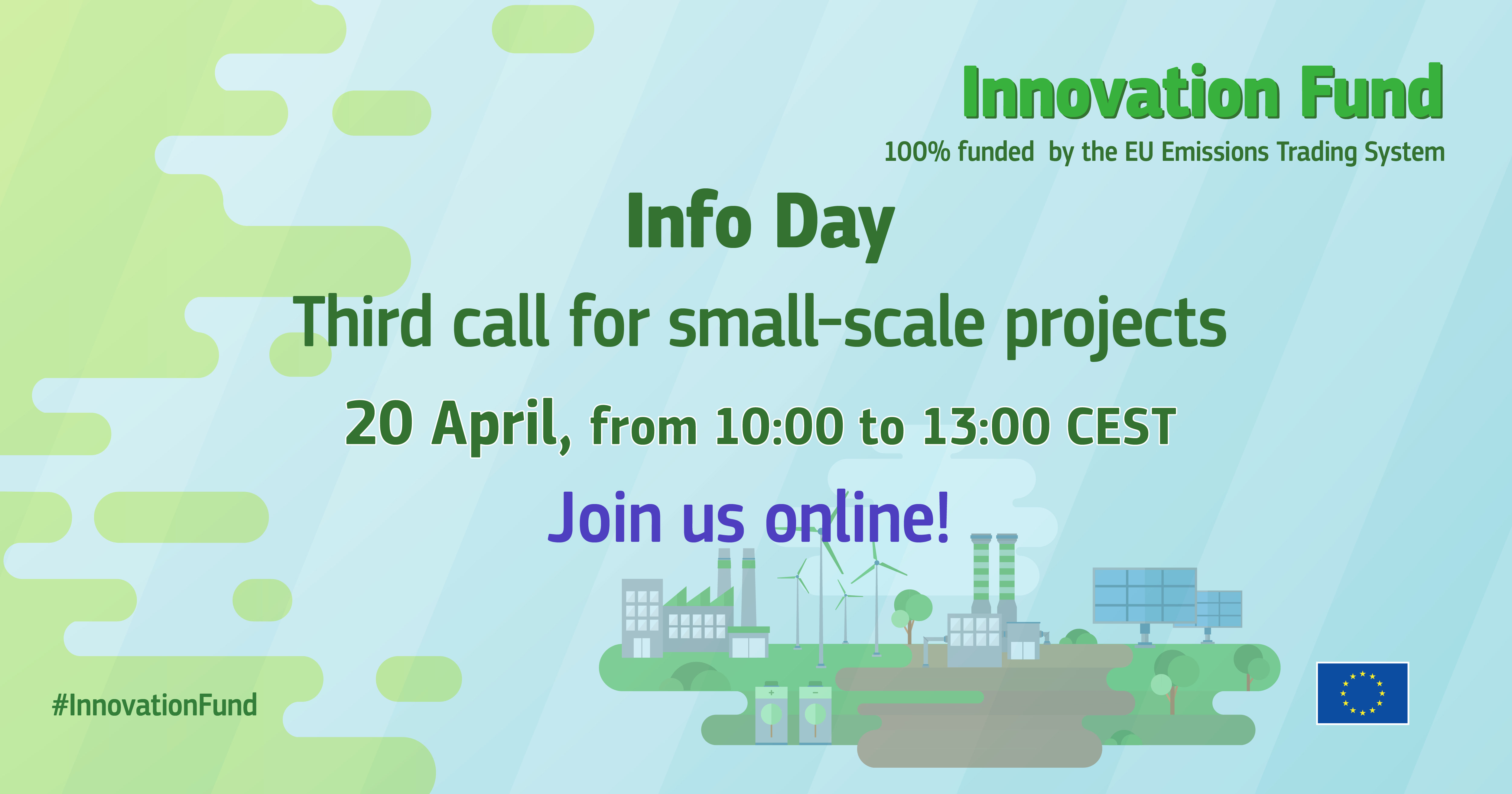 The Innovation Fund is a dedicated funding programme for the deployment and up-scaling of innovative low-carbon technologies, aiming to bring industrial solutions to decarbonise Europe to the market. The Innovation Fund is funded with revenues from the auctioning of allowances from the EU Emissions Trading System. 
The Commission has launched two calls for small-scale projects to date (total capital costs above EUR 2.5 million and below EUR 7.5 million) with a total budget of EUR 100 million each in the energy-intensive industries, renewables, energy storage, and carbon capture, use and storage.
Useful links