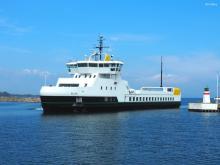 Ellen is the world's first all-electric ferry. Built in the framework of the Horizon 2020 Project E-Ferry, Ellen has been operating service since August 2019 between the Danish ports of Fynshav, on the island of Als, and Soby, on the island of Aero.
The ferry is capable of carrying approximately 30 vehicles and 200 passengers. It is powered by the world's largest battery, which allows it to travel longer distances than existing electric ferries (up to 21.4 nautical miles or nearly 38 km) before it needs to be recharged.
The e-Ferry project has started in June 2015 and ended in May 2020.
Reference

636027

Project duration

1 Jun 2015 - 31 May 2020

Project locations
Overall budget

EU contribution

€15 141 000

71.1% of the overall budget
Stakeholders
Coordinators
Participants