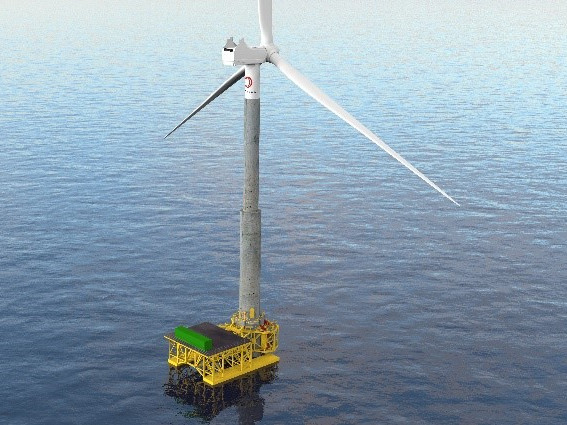 Operational Expenses (OPEX) cover nearly 30% of the costs of the offshore wind energy. Large Corrective Maintenance (LCM) actions in particular, like the replacement and handling of major wind turbines' components, represent approximately half of such costs, as LCM interventions highly depend on the deployment of large jack-up vessels.
Reducing the costs of renewable technologies is one of the pillars of the European Strategic Energy Technology Plan (SET Plan) as this infographic shows.
The objective of ATOMS project is to lower Operation & Maintenance (O&M) costs for offshore wind farms by launching and testing a new technology for LCM operations of both bottom-fixed and floating wind turbines.  ATOMS technology is fully independent from the use of large marine cranes and heavy-lift jack vessels, thus allowing a reduction of both costs and environmental impact.
ATOMS innovative system consists of three main elements: a mid-size floating twin hull barge, a conventional onshore crane and a coupling ring structure (CRS). While jack-up vessels need to reach down to the seabed for a fixed point to prevent movements of the crane, ATOMS will be transported by a conventional tugboat to the wind turbine and will be conveniently coupled to it by means of the CRS. For bottom-fixed wind turbines, this solution prevents the movement of the service crane. In the case of floating wind turbines, ATOMS will allow the crane and turbine to move along as one single body thus eliminating any relative movement. 
ATOMS system is able to couple with any steel or concrete tubular-tower-type foundation structure. It provides a robust large barge for equipment transport and handling. ATOMS project will achieve a reduction of almost 51% of CO2 emissions, while cutting the overall maintenance costs by up to 25% and the overall Levelized Cost of Energy by 5-7%. You can find more info on its design on the project page.
ATOMS prototype will be installed in the Canary Islands and tested on ELISA/ELICAN experimental offshore wind tower developed as a result of 2 EU H2020 co-funded projects of the same company, Esteyco. Once tested, the system will be certified, qualified and patented. Further funding will be needed for the first pre-serial platform (3-5M€).
If you want to know more about ATOMS project and its innovative solution, check the World Circular Economy Forum side-event dedicated to Circular Design for the Sustainability of the Offshore Renewable Energy taking place on 22 June 2021, by clicking on the event page.
Reference

EMFF-BEW-2019-958976

Project duration

1 Sep 2020 - 31 Aug 2022

Project locations
Overall budget

EU contribution

€2 481 580

70% of the overall budget
Stakeholders
Coordinators