Webinar: online meeting on new tools and instruments for private land conservation in Europe
soil protection

Monday 8 March 2021, 16:00 - 17:30 (CET)

Live streaming available
Practical information
When

Monday 8 March 2021, 16:00 - 17:30 (CET)

Languages

English

Organisers

Forum for the Future of Agriculture

Website
Description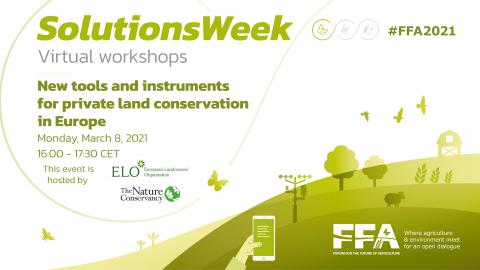 The EU 2030 Biodiversity Strategy aims to protect 30% of the EU's total land area. But this is only possible with the active participation of private landowners.
The LIFE+ project Land Is For Ever promotes the use of private land conservation tools across the EU by working with landowners and their representatives.
On 8 March, as part of the Forum for the Future of Agriculture (FFA) Solutions Week, the project team is holding a webinar: New tools and instruments for private land conservation in Europe.
You will learn about the tools developed under Land Is For Ever as well as their use in both the US and the EU. The goal of the meeting is to have a clear picture of potential future EU policy recommendations in this area. There will also be a questions and answers session for participants.
More information and registration details here.