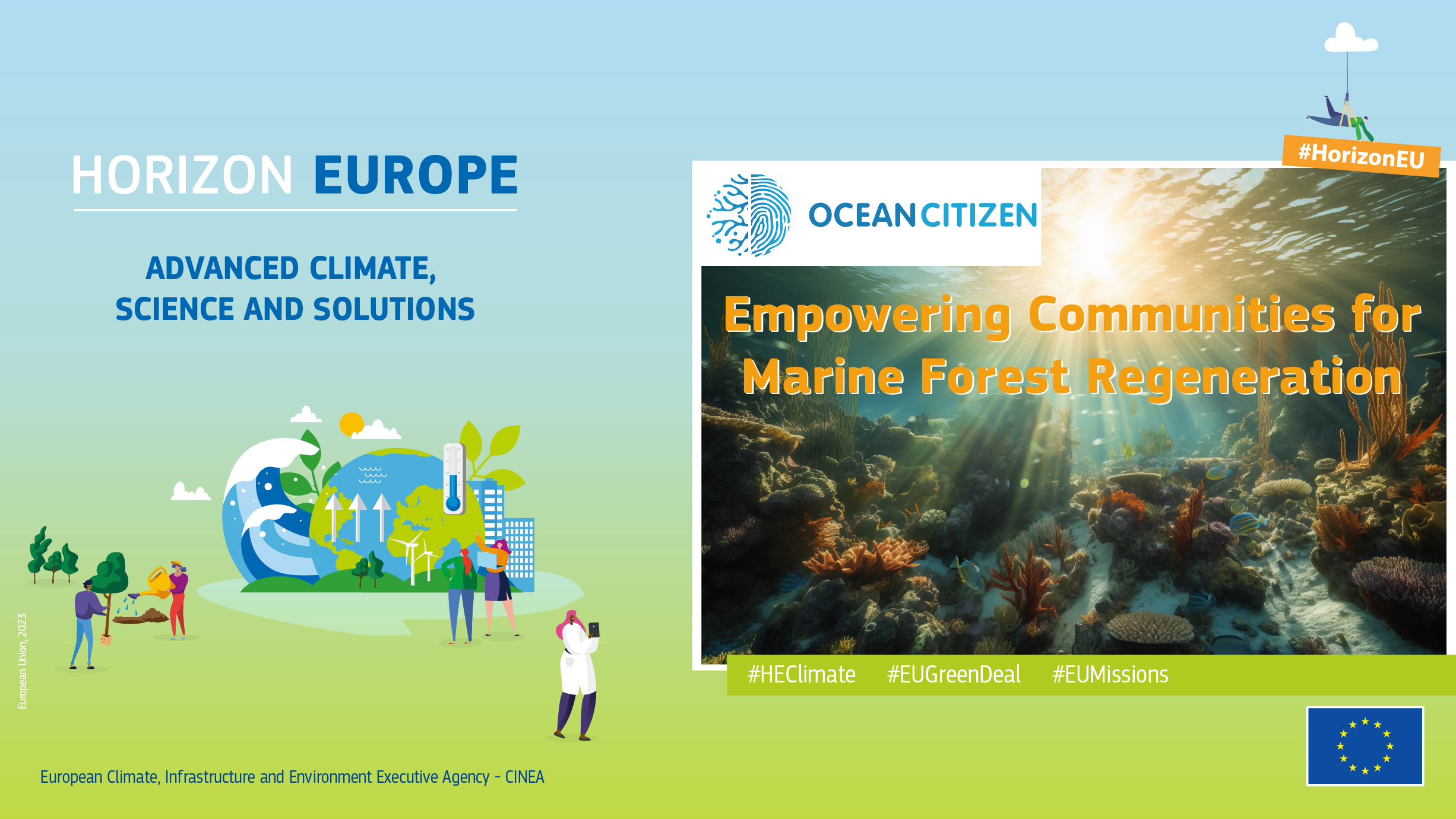 On 8 June, the world celebrated World Oceans Day, a reminder of the vital role ocean plays in sustaining life on our planet. Among the many initiatives driving change, the Ocean Citizen project, funded by Horizon Europe under the Mission Ocean call, has emerged as a beacon of hope for the future of our marine ecosystems. By combining cooperation between science and citizens, this multidisciplinary project aims to support the successful recovery, adaptation, and conservation of coastal marine ecosystems.
Once brimming with vibrant marine life, our oceans have suffered from human activities, including pollution and overfishing. Recognizing the urgent need for action, the Ocean Citizen project has embarked on a significant journey to restore and preserve these delicate ecosystems.
Aware of the lack of holistic approaches and protocols for large-scale ocean adaptation and restoration, the project aims to develop a replicable marine restoration protocol that combines habitat, carbon immobilization, and biodiversity regeneration with social engagement and economic benefits for local communities. Volunteers from diverse backgrounds contribute to marine forest regeneration efforts by monitoring water quality, collecting data on marine species, and assisting with habitat restoration activities.
The Ocean Citizen project expects to successfully restore degraded marine forests (MFs) and provide nature-based solutions for climate change mitigation. It also aims to adopt protocols for measuring the coastal restoration and management impact. Furthermore, the project aims to boost an ocean-literate society, promote blue growth opportunities, and contribute to existing legislation on restoration and conservation practices in underwater coastal areas.
A key innovation introduced by Ocean Citizen is the use of Symbiotic Enhanced Reefs (SER®), artificial constructions designed using AI. Composed of a mix of calcium carbonate, biopolymers, and cement, these structures are strategically placed to optimize interaction with sea currents, improve organic particle retention, enhance light distribution, and increase organic matter availability. The SERs also allow for human intervention through active gardening plans, providing a unique opportunity for communities to contribute to the restoration process.
To further support the growth and restoration of marine habitats, Ocean Citizen deploys Floating Reefs (FR). Installed on moving platforms, these structures serve as optimized nursery grounds for selected species. The FRs foster the growth of marine organisms while accommodating shallow and deep restoration activities. By combining these innovative techniques, Ocean Citizen aims to create blossom marine ecosystems across a wide range of depths and environments.
Through the integration of science and society, the project expects to achieve remarkable outcomes. By harnessing the power of citizen science, the project can restore and regenerate marine forests, creating havens for marine life and preserving biodiversity. With the project's success, other regions and countries could benefit and replicate this multidisciplinary approach, offering hope for the preservation and restoration of marine ecosystems worldwide. Together, we can continue to protect and restore our precious marine resources, ensuring a thriving future for our oceans and all life they support.
For more information, please see the EU factsheet
Reference

HORIZON-MISS-2021-OCEAN-02-01 - European Blue Parks

Project duration

1 Jan 2023 - 30 Dec 2026

Project locations
Overall budget

EU contribution

€10 369 172

92.7% of the overall budget