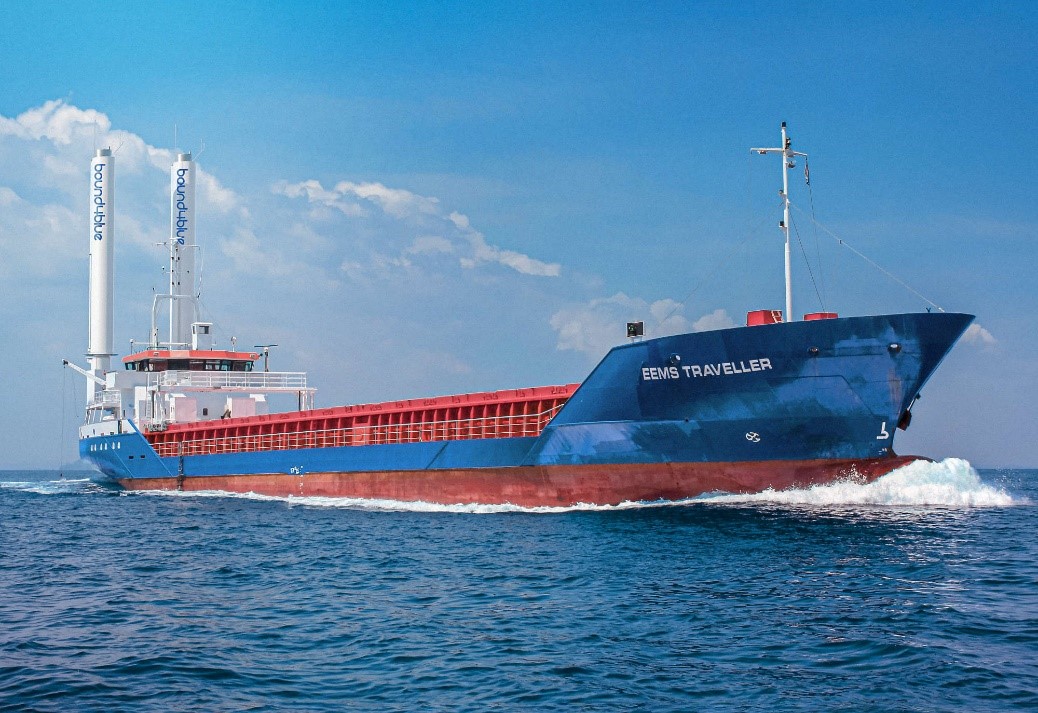 The maritime transport sector is facing a double challenge. On one hand, there are new regulations aiming at reducing pollutants and greenhouse gas emissions in the sector. On the other hand, the fuel cost is increasing, reaching 40-60% of the operational costs. This is particularly relevant when new less polluting fuels are used, for example Marine Gasoil that has higher costs compared to the Heavy Fueloil. Therefore, there is a high demand for solutions that contribute to reduce fuel use in this sector with a convenient return on investment.
The project GREENing the BLUE worked on energy efficiency solutions to decrease the fuel use and emissions from the shipping sector, supporting the EU goal to become climate neutral by 2050 as well as contributing to the EU's Blue Economy strategy and the EU Green Deal.
GREENing the BLUE brought to commercial readiness a tilting patented wingsail solution. This is builds up on the suction sail concept, (commercially called "eSAIL®") based on an aeronautical design. Such solution can reduce fuel use and related pollutant emissions from maritime transport up to a 30%. This is critical for an industry looking for more efficient propulsion systems and emissions reduction.  The rigid suction sail, equipped with a tilting mechanism and an autonomous control system, is a cost-effective and proven technology to comply with the emissions reduction regulations.
The wingsail technology for merchant ships was validated by refining and optimising the design for the wingsail, as well as the sensoring and control technologies and capabilities, together with the testing of novel covering materials. A 17-meter eSAIL® unit was manufactured and demonstrated on a cargo vessel, "La Naumon", owned and used by the Spanish theatre company La Fura dels Baus.
bound4blue (Spain) was in charge of designing, manufacturing and commissioning its proprietary eSAIL® technology, while Astander (Spain) was leading the installation and the retrofitting of the vessel. In parallel, Lanitz Aviation (Germany) performed some design and testing activities related to the application of lightweight materials to the eSAIL® manufacturing process.
The project had already received a seal of excellence under the EU SME Instrument programme before applying for funding under EMFF (now European Maritime, Fisheries and Aquaculture Fund – EMFAF). The EMFF project, which supported the demonstration of the wingsail solution, helped the coordinator (bound4blue) on its way to secure blended finance from the European Innovation Council (EIC) Accelerator programme.
In using a theatre vessel for the demonstration of the technology, the project is an example of technology, science, art, and culture synergy to show future generations that a more sustainable world is possible. Furthermore, project's outcomes have made a significant contribution to promoting alternative wind-assisted propulsion technologies for vessels and therefore contributes to EU Green Deal and sustainable blue economy goals. GREENing the BLUE solution has the capacity to increase the competitiveness of the European maritime transport sector, resulting in direct and indirect job creation.
Reference

EASME/EMFF/2017/1.2.1.12/S1/08

Project duration

1 Jan 2019 - 31 Dec 2021

Project locations
Overall budget

EU contribution

€810 151

65% of the overall budget
Stakeholders
Coordinators
Participants
Astilleros de Santander (Spain)
Website
Lanitz-Prena Folien Factory GmbH (Germany)
Website