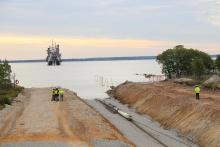 The Balticconnector is the first gas interconnector between Finland and Estonia, aiming to end the gas isolation of Finland, connecting it to the rest of Europe. The Balticconnector will contribute to the security of supply in the region and will enhance competition and energy market integration in the Baltic region.
As an EU Project of Common Interest (PCI), the Balticconnector received financial support from CEF for the preparatory studies and works. The works comprised the construction of three pipeline sections: the 21 km-long onshore pipeline in Finland, the 77 km-long offshore pipeline, and the 54 km-long onshore pipeline in Estonia as well as the installation of auxiliary equipment including a pressure reduction station in Estonia and compressor and metering stations in both countries. The 152 km gas pipeline is bi-directional and has a transmission capacity of 7.2 million cubic meters of gas per day.
The Balticconnector is in commercial use since 1 January 2020.
Reference

8.1.1-0040-FIEE-S-M-14

Project duration

1 Aug 2014 - 31 Mar 2018

Project locations
EU contribution

€5 326 210
Stakeholders
Coordinators
Participants
Gasum Oy (Finland)
Website
Baltic Connector Oy (Finland)